Obstacle Courses
for Rent
Large inflatable slides can be rented from us as well as inflatable play zones. Obstacle course inflatables provide more interaction and can be an enjoyable way for children to compete against each other and get a lot of energy.
Professional delivery to
New Bern NC
and surrounding areas. Please submit a quote or contact us to be sure we service your area.
Obstacle courses could be compared to bounce houses, but they are more engaging for kids. They are often a great way for teens to race each their way through the course in order to see who is the fastest.
For added durability, our inflatable Interactive Obstacle Courses feature reinforced seams to ensure they're strong. By this, your guests are guaranteed to enjoy endless hours of Twist, Turns Climbs, and Slides ! We offer Obstacle Courses are referred to as Crowdpleasers, and provide lots of fun for everyone.
In addition to fun, the inflatable obstacle course also helps the children to learn and can be used to develop your child's interactive skills. Inflatable obstacle courses can be utilized indoors to help children take part in various activities. The inflatable obstacle course comes in different sizes and types to allow children to play a race, jump through the hoops and push obstacles. It's perfect to play with youngsters.
There are many sizes and designs to choose from for inflatable obstacles courses. The vibrant structure will draw children and make your party a success. There are two kinds of inflatable obstacle courses. There is an 35-foot course, and a larger one that is 35 feet long and 40 feet wide. Two children can compete and cross all the obstacles in most inflatable obstacle courses.
You can climb, push through, crawl through, race, platform, and slide through the inflatable obstacle park with a height of 65 feet.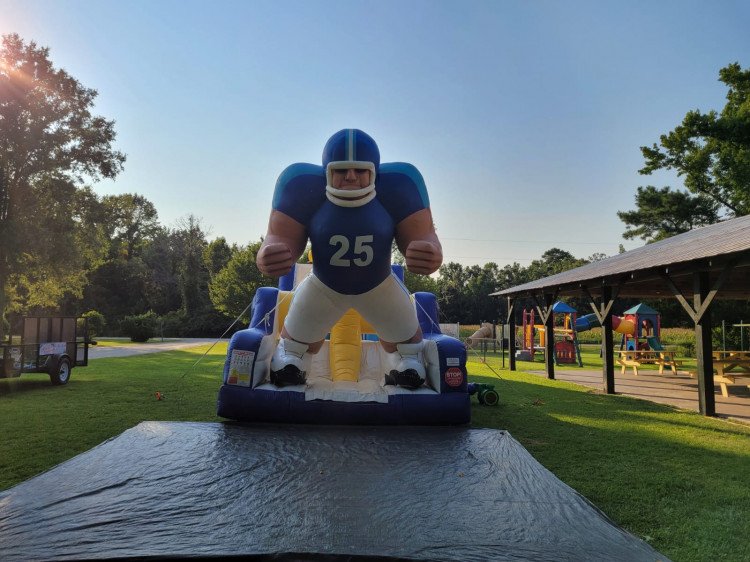 Endzone Challenge
from $550.00